Ohana Tree with Qwazaar and Open Mike Eagle – Los Angeles, CA – 01/26/13
Facebook Event Page: https://www.facebook.com/events/469746529739066/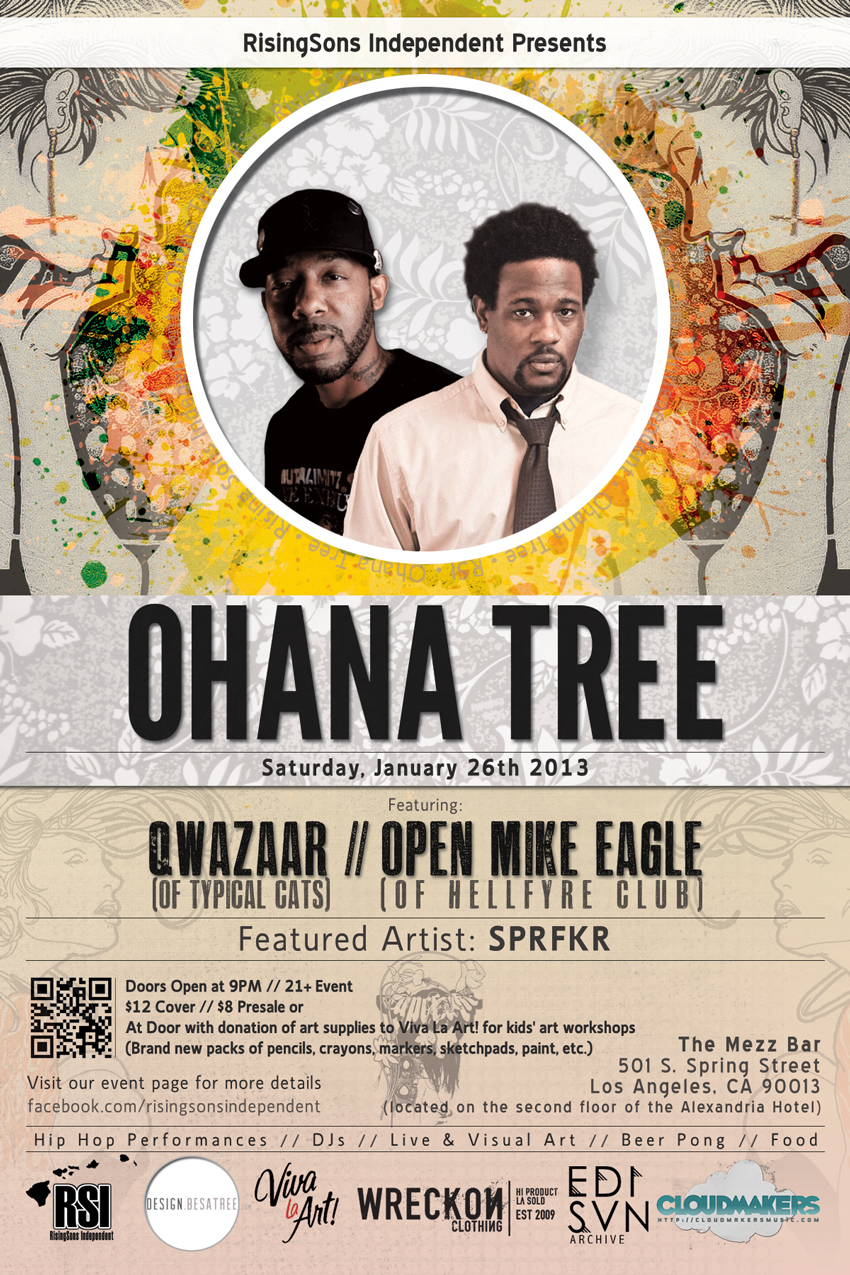 OHANA TREE 01.26.13
Feat. Qwazaar (Typical Cats), Open Mike Eagle (Hellfyre Club) w/ Featured Artist: SPRFKR
Artists, Music, Sponsors, Line Up, Larger flyer & more down below »
Saturday, January 26th 2013
@ The Mezz Bar
501 S. Spring Street
Los Angeles, CA 90013
Located on the second floor of the Alexandria Hotel
Street parking
Doors open 9PM
$12 COVER.
$8 Presale or
At Door with donation of art supplies to Viva La Art! for kids' art workshops (Brand new packs of pencils, crayons, markers, sketchpads, paint, etc.)
This is a 21+ event
LARGER VIEW OF FLIER:
Hip-Hop Performances • DJs • Live painting • Live & Visual Art • Food • Full bar • Beer Pong
PERFORMANCES BY
• Qwazaar (of Typical Cats)
http://qwazaarmusic.com/album/qwazaar-batsauce-bat-meets-blaine
• Open Mike Eagle (of Hellfyre Club)
http://www.youtube.com/watch?v=1OhobMZupEA
http://www.youtube.com/watch?v=OSf7RvaSS4A
• Analog Dive http://analogdive.bandcamp.com/album/happy-endings-ep
w/ Dj Kemix https://soundcloud.com/dj-kemix
• Cloudmakers http://cloudmakers.bandcamp.com/album/nice-to-meet-you
• Cruz Ahenri http://cruzahenri.bandcamp.com/album/2-timer-mixtape
w/ Dj MikeRawk
• Bonnie Blue http://www.facebook.com/BonnieBlueMusic?ref=ts&fref=ts
LIVE ARTISTS
• Lefty Joe
• Kimberly Kite
• Robert Yancy
• David Cedeno
• Yuki Miyazaki
• Chris Cauton
SHOWCASING ARTISTS
• Proto
• Glen Sense
• Diego Arturo Mendoza
• Dominic Alesi-Harris
• Nora Martin-Hall
• Reese Hilburn
• Ariel Lowell
• Edrok One
• Jorge Ruano
SPONSORS
• Eddieseven photography • Viva LA Art • Design Besatree •
What Ohana Tree is about:
We hope you'll come join us, support the artists, come chill, have a drink, play some beer pong and just hang loose! This will be a very diverse crowd with people from all over Los Angeles. We hope to share what we have experience through creating these events, and that's the sense of family (Ohana). Feeling a part of everything around you and sharing a connection through all the many forms of art.
Join the Ohana, January 26th at The Mezz Bar in Downtown Los Angeles
*SAVE THE DATE!
Much Mahalo,
RSI
Who

Ohana Tree with Qwazaar and Open Mike Eagle

When

Saturday, January 26, 2013

Where

The Mezz Bar (

map

)

501 S. Spring St. 2nd floor

Los Angeles, CA, USA 90013