The Cypher Effect w/CloudMakers pt.2
Check it out… The Cypher Effect with The CloudMakers pt.2 featuring MC MEGA, KSERIOUS, ALPHA CALM, THAWT & BESATREE.

This was really fun to do, definitely hope to get involved in another one down the road. Please give some feedback and share it!! Let your people know what we're up to!
Links to everyone below:
JDS Films/The Cypher Effect
https://www.Facebook.com/TheCypherEffect
https://www.Facebook.com/JDSFilms
http://www.youtube.com/thecyphereffect
@JDSFilms
MC Mega
@mc_mega
http://mcmega.tumblr.com/
http://www.freemcmega.blogspot.com/
Kserious
http://kserio.us
http://on.fb.me/kserious
@k_serious

Alpha Calm
https://www.facebook.com/edward.alphacalm
@alphacalm
Thawt
https://www.facebook.com/Jimmythawt
http://thaprocess.com
@jimmythawt
Besatree
https://www.facebook.com/besatree
@besatree
http://besatree.com 
Here's a few extra pictures from the day as well as a link to the first CloudMakers Cypher Effect session.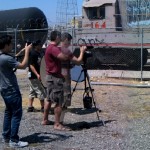 Here's the first half >> The Cypher Effect – CloudMakers pt.1