Sunday Getdown – San Bernardino, CA – 06/24/12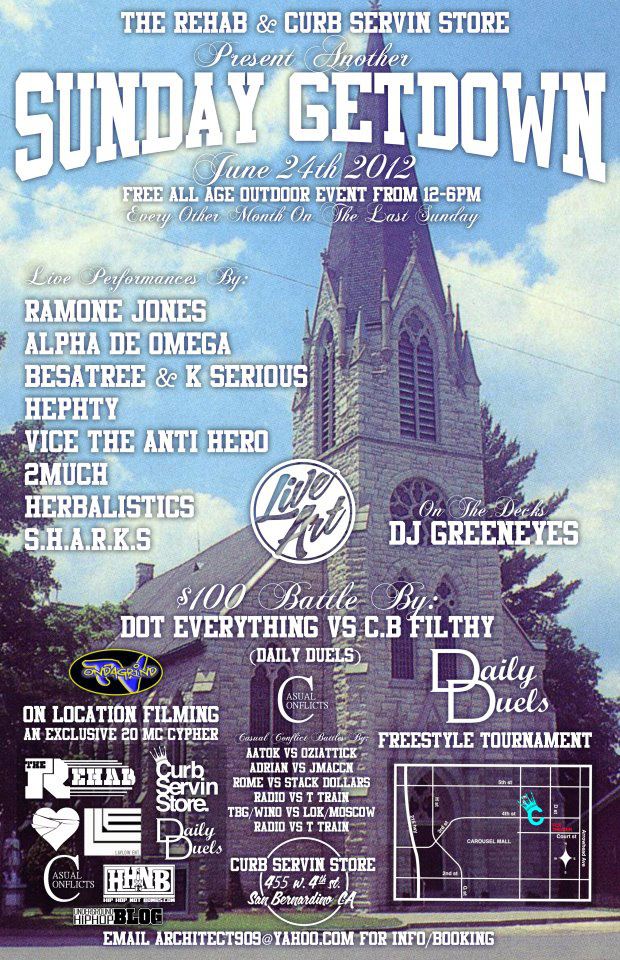 The Rehab and Curb Servin Store have teamed up and are starting a new IE tradition called SUNDAY GETDOWN, a bimonthly event held on the last sunday of the month at the Curb Servin Store in beautiful down town San Bernardino.
Sounds provided by:
DJ Greeneyes
Live Performances by:
Ramone Jones
Alpha de Omega
Besatree & k serious
Hephty
Vice the anti hero
2much
Herbalistics
S.h.a.r.k.s
+
$100 battle by:
Dot Everything vs C.B Filthy
(Daily Duels)
+
Freestyle Battle Tournament
(Daily Duels)
*Email Architect909@yahoo.com to for details/to sign up*
+
OnDaGrindTV on Location filming an exclusive 20 MC Cypher
+
Battles by:
AATOK vs Oziattick
Adrian vs JMaccN
Rome vs Stack Dollars
TBG/Wino vs Lok/Moscow
Radio vs T Train
(Casual Conflicts)
Free All age outdoor event from 12-6pm every other month on the last Sunday. Be sure to tell a friend and come out to support your local artist.
Who

Sunday Getdown

When

Sunday, June 24, 2012

Where

Curb Servin (

map

)

455 W 4th Street
Suite A

San Bernardino, CA, USA 92401

Other Info